I'm a new Skore customer! Where should I start?
First of all, welcome to Skore! 😌
I'm sure you will enjoy this amazing learning tool. Please, click here if you have any questions about Skore.
First of all, it's necessary to know what your final goal with Skore is. What are the results you wish to achieve with this project?
Do you want to welcome your new employees? Do you want to develop their careers or make your content available in a centralized way? If the answer is yes for one or more of the questions above, we inform you that Skore can do this and even more for you.
Use cases 
Here we'll introduce our use cases. But you can learn more about them here.
Onboarding: It's the inicial journey of a new employee;
Corporate University: Focused on employee development;
Knowledge Hub: Here you may include all the relevant contents you'd like to make available in the platform;
Chatbot: Interactive and conversational interface.
Pretty cool, right? Now you need to relate your final goal to the Skore use cases.
Contents in the workspace
Well, the first step when you begin using Skore is to think about the contents that will be added there.
To do that, your first responsibility is to separate the topics and decide where those will be in Skore.
It is important to know that the organization of Skore is done in groups, spaces, sections and finally contents.
To learn more about it, click here.
For example, you may have a group named 'Commercial Team' and one space inside of this group named 'Sales'. Inside Sales you may have one section named 'Basic Techniques' and another one named 'Advanced Techniques' and, in these sections, you may have contents related to these subjects. Take a look: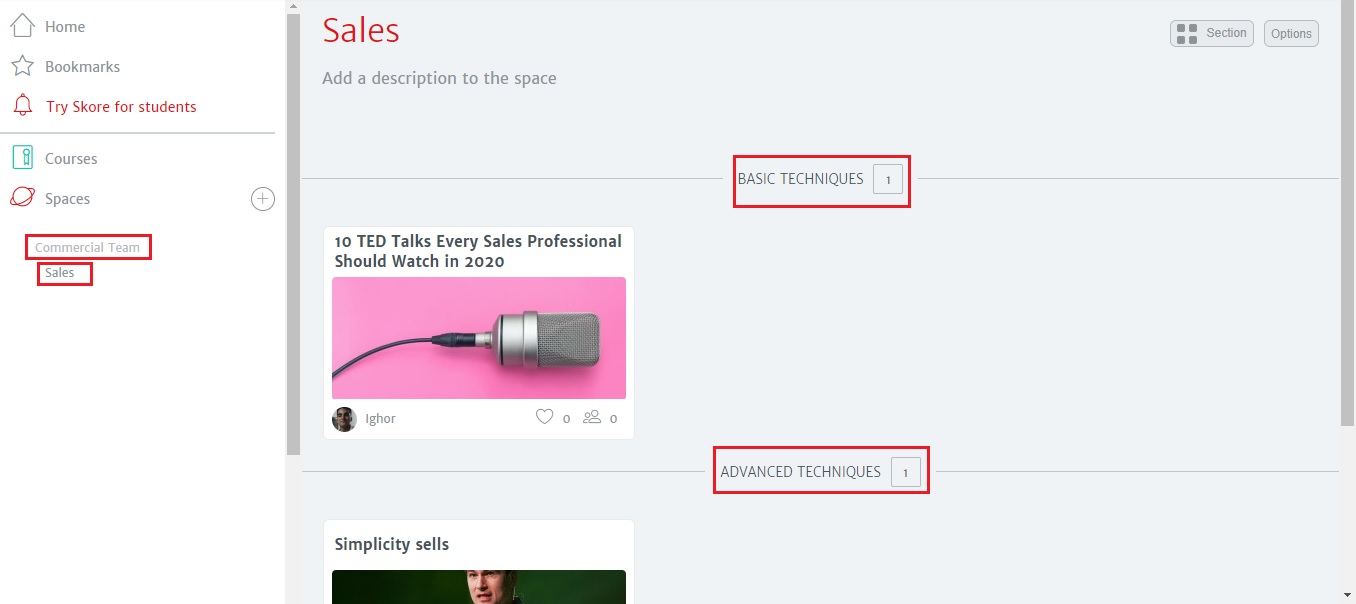 Creating a home page
When you go to the student visualization of Skore, you'll see a default home page.
This page is completely customizable. You may make your contents available in the way you want, you only need to talk to your CS or talk to support. If you want to read more about pages, click here.
Organization of contents by teams
Ok... Now we will talk about content inclusion.
In Skore, you can include different types of contents and organize them to guarantee the best experience for the user. If you want to read more about it, click here.
After that, you need to define if the content will be private or public.
To define who can see something in Skore, you need to understand the concept of teams. If you still don't know what teams are and how to use them, look at this article here.
If you want to understand how permission works, this article may help you.
If you wish to make the content available for everyone in your workspace, the space in which the content is has to be public.
The permissions only work for spaces, which means that it's impossible to assign the permissions to contents, groups or sections! Another important information is that when you create a new space, by default, it will be public. The permission only changes if you define the space as private and define the teams that can access that space.
Branding and customization
If you wish (and we recommend it), it is possible to change and personalize your Skore workspace using pictures and colors.
You can change:
The color of titles and subtitles;
The cover of almost any content;
The covers of sections and spaces.
Here you can find a step-by-step on how to customize your Skore workspace.
Missions
A mission is a feature that can be understood as a course or a learning track.
You can use all the contents in Skore in one or more missions. This function is more used in the Onboarding process or Corporative University use case.
Some features of missions are:
Sequential consumption;
Specific public;
Due date;
Minimum approval criteria;
Analytics.
To learn more about missions, click here.
To have a step-by-step on how to create them, click here.
Let's go! Your Skore workspace is almost ready.
How to invite one user or more
You can do that using the upload of a CSV file (look at this article for more details) or using an individual invitation (learn more here).
This part of the process is very important and because of that, I am suggesting this article for you.
And now your Skore is READY! 🏆✨
All you need to do now is enjoy this amazing learning tool and use our Analytics to follow the engagement of your users.
If you need any help, please contact us.
---